Sheet Laser Cutting Services
Accurate & consistent sheet processing, via laser & water jet cutting, various material capabilities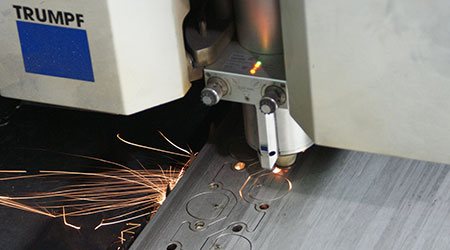 Right out of the gate GHI has an impressive lineup of state of the art machines in our sheet processing department including a Trumpf Trulaser 3030 and Cincinnati CL707 Laser Center, both with 60 x 120 sheet cutting capacities. Our Amada Apelio III has a 50 x 100 sheet cutting capacity with 2000w laser while also having turret punch combinations matching that of our Amada Pega 357 turret punch.
If your project calls for water jet cutting, GHI houses and utilizes a 48 x 48 Flow Bengal Water Jet 50hr that can cut up to 3" thick aluminum, stainless, mild steel, titanium and many other types of material.
The amazing roster of sheet processing equipment at GHI also includes a 10' x 1/2" Accushear with the power to shear material up to 1/2" thick with the fines to shear sheet as thin as .010".
The complete equipment listing, along with specifications, photos and video are available for review under our Facility & Equipment area.